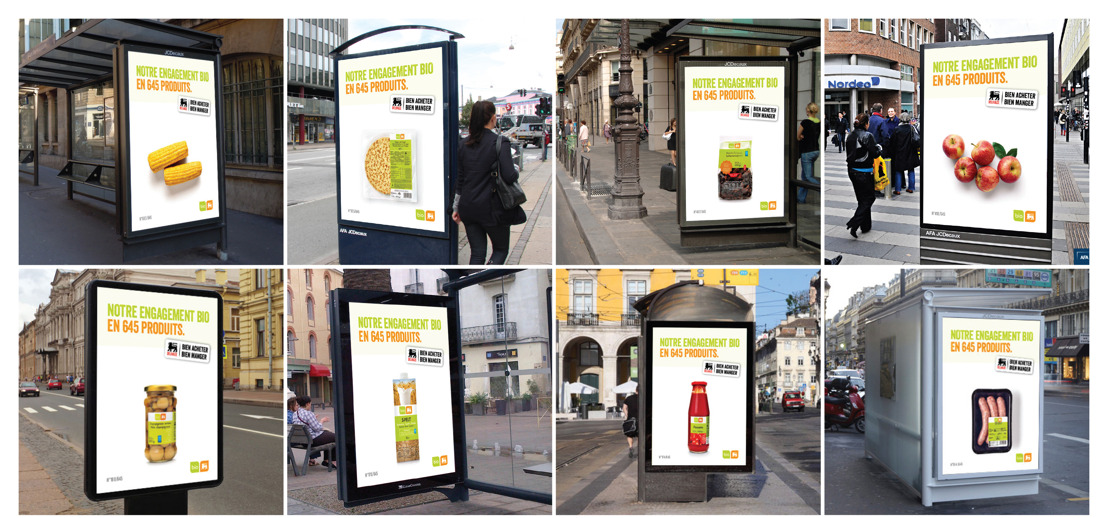 The medium is the message !
Jeudi 8 juin 2017 — Tegenwoordig is iedere supermarkt wel verplicht een assortiment biologische producten ter beschikking te stellen. Delhaize, een keten die sinds jaar en dag bekend staat om haar ruime aanbod en respect voor kwaliteit, heeft niet gewacht op deze trend om het pad der bioproducten in te slaan. Daarom dat het merk dan ook vol trots kan verkondigen dat het vandaag beschikt over het grootste aanbod aan biologische producten, allen van eigen huismerk. In totaal beschikt Delhaize over 645 gecertificeerd biologische producten. Maar hoe maak je de omvang van zo'n aanbod en het bio engagement van Delhaize aan het grote publiek duidelijk? Door ze stuk voor stuk te laten zien!
Zo besloot Delhaize, in samenwerking met Clear Channel, om telkens één affiche per product af te drukken.
Dat betekent honderden affiches, allemaal verschillend, allemaal genummerd. Een echte uitdaging wat productie en logistiek betreft, maar een mooie demonstratie van het uitgebreide aanbod aan bioproducten van Delhaize. Te bewonderen in alle abribussen in uw buurt.


Credits
Agency: AIR
Brand: Delhaize
Client: Aude Mayence, Stéphanie Maenhoudt, Charlotte Chaidron
Executive Creative Director : Eric Hollander
Creative Directors : Dieter De Ridder, Joeri Van Den Broeck
Associate Creative Director : Sophie Norman
Creative: Jean-Marc Wachsmann, Benoît Hilson
Account team : Dominique Libermann, Hafsa Smouni
Graphic Designers : Julie Taziaux, Hervé Pinte
Studio : Denis Haillez, François-Olivier De Deyn
Media: Clear Channel
Production : Hecht