Protest from home with Amnesty.
For its new candle campaign, Amnesty asks people to show their indignation and resistance by organising the first protest from home.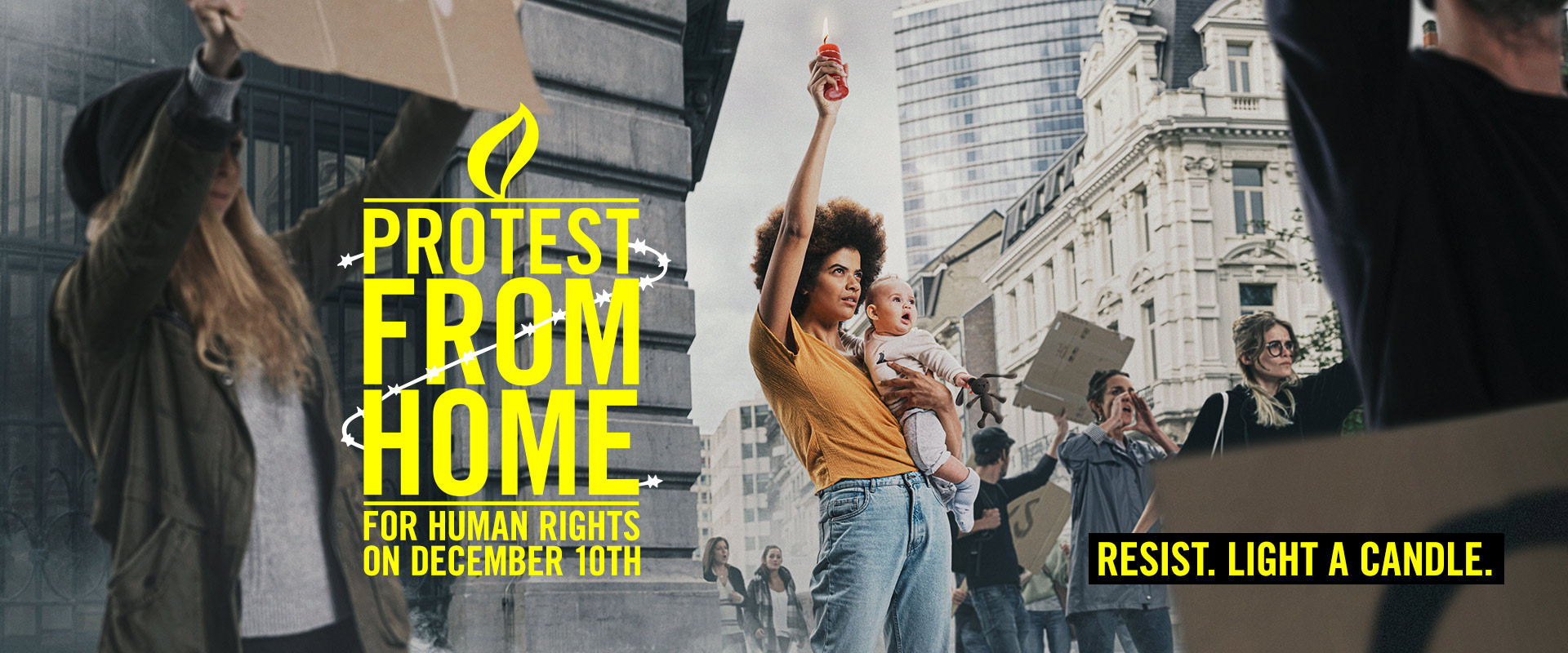 Buy and massively light up your candles and share in a collective act of resistance this 10th December using the hashtag #ProtestFromHome
Brussels, 18th October 2019. Indignation and resistance are at the heart of the current sales campaign for Amnesty International candles, which will be held from the 19th November to the 10th December this year. On the last date, the organisation will launch its first "Protest from home."
"For months now, we have seen protest movements multiply across the globe. Millions of citizens have taken to the streets to voice their concerns relating to human rights. Unfortunately, a number of governments have chosen to react in a totally disproportionate and unjustified way to these protests. To protest in a pacific way is not a crime, it is a fundamental right." Philippe Hensmans, director of the French Belgian section of Amnesty International explains. "More than ever, we must show indignation when faced with the numerous violations of human rights in the world. One way to resist is to buy the Amnesty candle, as it's a way we can translate our indignation and anger into a concrete act by financing the protection of human rights, which is at the heart of everything we do. Buying and lighting a candle, is already resisting!"
On the 10th December, the international day of human rights, Amnesty International will send out a massive call to the public to mobilise in an original way by "protesting from home." The aim is to encourage a lighting of candles en masse, as an act of resistance against a slew of violations of human rights. The hashtag #ProtestFromHome will make it possible to post the picture of a lit candle on social media, accompanied by messages relating to the defence of human rights.
We hope a large number of the public will heed the call, as it will allow many citizens to let their voices be heard in the simplest of ways: by lighting a candle," Philippe Hensmans adds. "After all, today, almost everything can be done from home: working, buying all sorts of things, ordering a meal, etc. This 10th December, it will also be possible to protest for the respect of human rights from home."
Additional information
For almost a month, it will be possible to support the organisation by buying a candle or one of the many products offered by Amnesty International. Some 60 local groups spread across Brussels and Wallonia will be at different high-traffic locations, including at supermarkets. These points of sales will be highlighted on the organisation's website, where it will also be possible to order your candle online.
On top of that, more than 2500 volunteer salespeople will contribute to the campaign by offering the candle to their entourage.
It is also possible to buy a candle (and other goods from the online shop) at this address: ​boutique.amnesty.be
An article (dated the 24th October 2019) giving more information about the perception of Amnesty International on the massive protests happening worldwide is available on the organisation's website:
amnesty.be/infos/actualites/manifestations-repressions
For more information, contact the Press department of the French Belgian section of Amnesty International (+32 483 00 15 67).
Campaign Key Visual
PDF - 1.4 Mb
Download