Creativity at the service of the planet and society: Air obtains B Corp certification.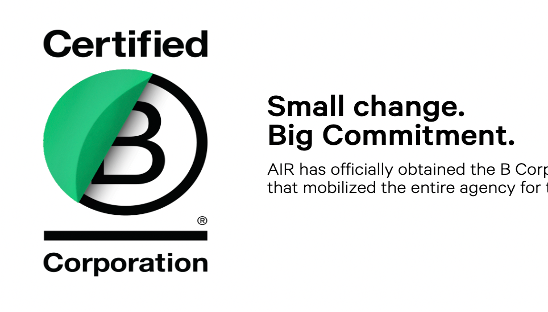 Brussels, 20th September 2022 — Brussels-based independent and long-standing engaged creative agency AIR announced today that it has officially obtained the highly-coveted B Corp certification conferred to companies meeting the highest standards of verified social and environmental performance. The result of a high-demanding process that was initiated two years ago, as well as a logical milestone for an entrepreneurial journey started almost 30 years ago.
A logical step for Air.
Since its inception back in 1993, Air has been committed to changing the perception of brands they worked for, and moreover, changing mentalities. For Eric Hollander, Founder and Creative Chairman «When you have the ability to influence, convince, and ultimately change behaviors, you have an increased responsibility toward society» Since the agency's early days, Air has worked for many NGOs such as Amnesty International (a record-breaking 25-year collaboration), Cap48 (20 years), the Bordet Institute, the Music Fund, and the International Polar Foundation, most often at its own costs. Each year, on top of delivering multiple highly creative, and equally efficient campaigns, which are testaments of the agency's success over time, Air has been dedicating no less than 20% of its time, energy, and talents to the service of causes and values that are dear to its heart. This fresh B Corp certification reinforces Air's trajectory in leading the change when it comes to communicating on social and environmental impact. "It is true that we are part of an industry that helped to create a problem, but now, with everyone who joins us, be that employees, clients, supply partners, or other agencies, we want to be part of the solution", said Stéphane Buisseret, Partner and CEO of Air. "We decided to start a B Corp journey because we fully recognize ourselves in B-Corp's vision: "Business as a force for Good."
What is B Corp?
Since its launch in 2006, more than 100,000 businesses have signed up for the B Corp Impact Assessment, yet only 5500 have been certified globally and just about 40 in Belgium, which is a testament to its highly demanding process yet also to its extremely high standards when it comes to social and environmental commitment.
To be certified, a company must prove that it is actively involved in bringing about a global cultural change that redefines the notion of success in the business world. It is no longer enough to worry about product, service, and profitability. It is also about helping to build an inclusive, equitable, sustainable, and regenerative economy.
The talk of the town
The fact that so many organizations work hard to get the B-certification is a response to more and more consumers and investors checking the impact of brands and companies. They get to choose and support exclusively organizations that share their own values, say what they do, and actually deliver on their promises. This is a global trend: according to the McCann Worldwide Truth Central (Truth about Global Brands study), 77% of people believe that brands have a greater capacity to create positive change than governments. Yet must we earn their trust.
"We are here to help our clients get on the shortlist of all stakeholders, from consumers to investors to the press, as we have always done," added Stéphane Buisseret. "This is becoming an essential condition to their success."
Developing new tools to help brands.
For the last two years, the whole team at Air has been working on aligning the discourse and the action. After becoming carbon neutral, the agency decided to go further and commissioned CO2logic to help develop an algorithm to calculate, reduce and offset the carbon footprint of the production process of all its advertising campaigns. "The Campaign Neutralizer™ is unique and proprietary, yet will not remain so for long. The goal is to open-source this innovation to the industry at large as soon as possible, in accordance with the B Corp statement of interdependence" said Laurie Parres, Impact Manager at Air.
The work done with Jules, one of the leaders in men's fashion in France, bears witness to the impressive efficiency of the tool. After analyzing the ecological impact of the client's previous campaigns, Air suggested putting things in place to minimize it for the 2021 campaign. These measures include reducing traveling, doing things locally in France or Belgium, reducing the number of people present on set to what's essential, encouraging ecological means of transport to get on set, and considering catering accordingly, reducing the number of clothes to be shot to a minimum, to be transported; and therefore to be produced, as sustainable engagement creates a virtuous circle. 
With these measures we managed to reduce the emissions from campaign production by 90% compared to 2019, coming from 1.150t of CO2 down to a projected 150t of CO2 for 2022. The remaining emissions having already been offset, the agency can proudly claim having converted its client to carbon neutrality in terms of campaign production this year." explained Pauline Heraly, Client Manager at Air.
Helping clients better respond to the challenges posed by sustainability in the broadest sense.
 Way beyond the production of its ad campaigns, fast fashion is the second most polluting industry in the world. "Over the past five years, we have worked together on a radical change in positioning, making Jules' commitment to a better world the cornerstone of its identity and marketing strategy. There is no woke- or green-washing here; Jules speaks and acts accordingly, going so far as to re-open production units in northern France. Their goal is to create sustainable, quality, and waste-free fashion for all Men in progress. Questioning the big stereotypes of masculinity is also part of sustainability", explained Eric Hollander. 
"Today, 60% of the brands we work with entrust us with positive impact missions. These include Partenamut, Mosa, AWSR, EU, Visit Brussels, Nomad Food, Bruxelles Environnement, Coca Cola, Mastercard, CHU Brugmann, Equal Brussels, Mosa Ballet School, Botaniets, Bruxelles Logement and more" explained Client Manager, Alice Stadion.
Creativity as an accelerator for change
 To Arnaud Bailly, Creative Director at Air,"It is not enough to reduce CO2 emissions to make good creative work. If you take a closer look, campaigns about sustainability and social responsibility are, most of the time, pretty boring and moralizing. But history has shown that good creativity sells, in every domain. It can build acceptance and accelerate change when it is well thought out. At Air "Creativity Crafted for Progress" is our motto."
 Just the beginning
After almost 30 years in existence, with all its teams, Air has modified its legal statutes to become a mission-driven company. It will be held accountable to its Board of Directors on its social and environmental commitment, as well as through B Corp's ongoing assessment. Of course, becoming a B Corp is not an end in itself, but rather the start of a major additional layer of engagement on the agency's path initiated almost 3 decades ago. With clients active in many sectors, Air is in a unique position to contribute to change and make a difference in the sustainability arena.
About Air: Creativity crafted for progress
Air is Belgium's leading independent agency and exclusive partner of McCann Group. Strategic, creative and results-oriented, Air provides brands with the extra meaning that is essential to their success today and uses all its craft skills to express it. The agency is committed to being an inspiration for a more sustainable world and a driver of action for its employees, clients and partners. Thanks to its almost 30 years of engagement, Air has just received its B Corp certification. Already zero-carbon in terms of its own emissions, it can neutralize the emissions of its clients' campaign productions, thanks to its proprietary Campaign Neutralizer ™ algorithm.
Contacts:
Eric Hollander: +32 495532571
Stéphane Buisseret: +32 475431439