AIR X BRUXELLES ENVIRONNEMENT: A NATURALLY BEAUTIFULLY NEW CAMPAIGN.
As we all know, Brussels is a city full of resources that all residents can benefit from in their own way. We feel so good there that we sometimes have the impression that the city belongs to us. But Brussels doesn't belong to us. Or rather … not just to us. The city also belongs to a bunch of other Brussels residents that we usually don't think of: those who have branches or wings, instead of arms.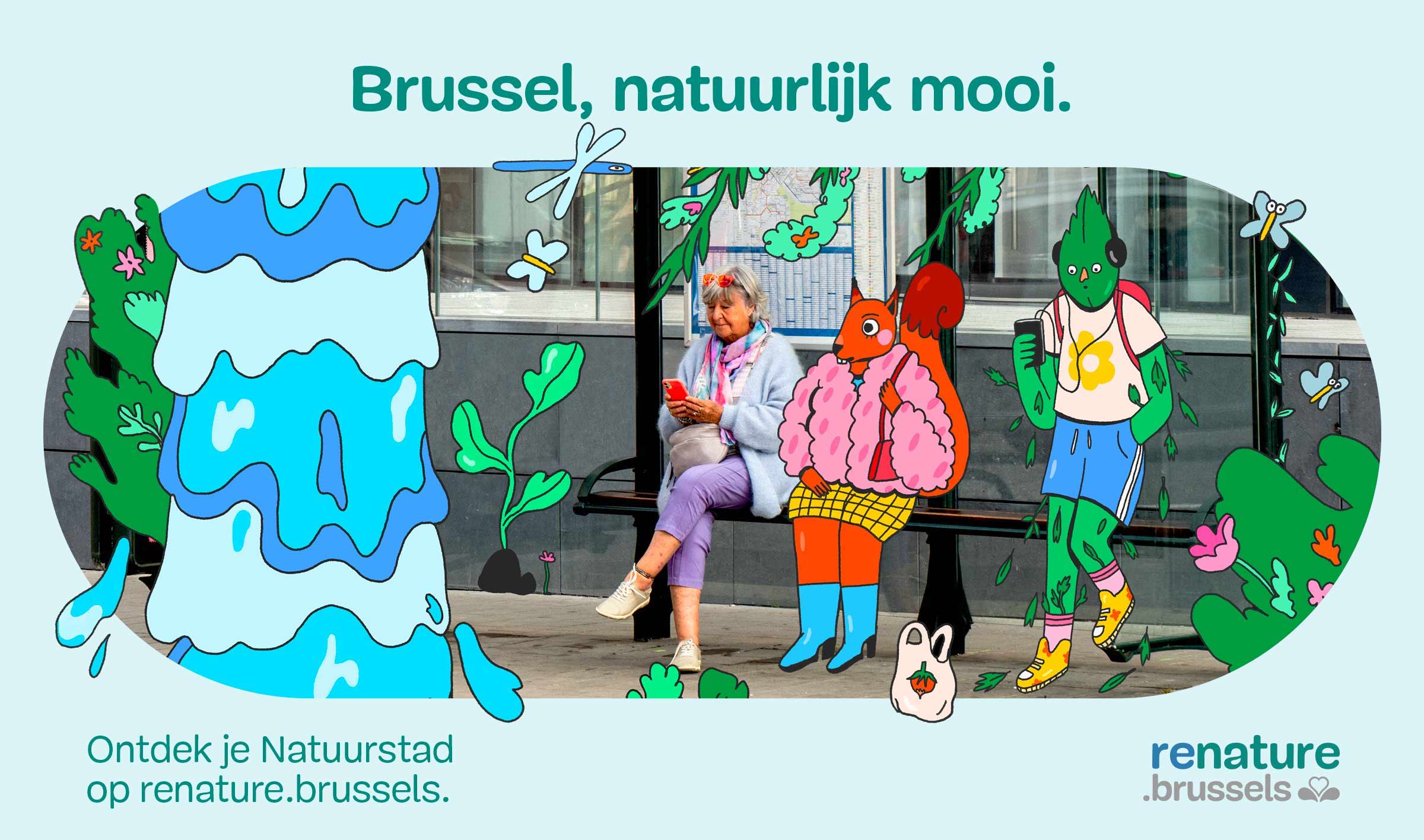 With 793 species of plants listed and 48 species of mammals identified, there is no doubt: in Brussels, nature too feels at home. Brussels is what we call a "Nature City".
To raise awareness of the importance of taking care of this Nature City, Air and Bruxelles Environnement launch a new communication campaign. The objective? Promote renature.brussels, the new reference platform for themes related to nature in the Brussels-Capital Region. The goal is to create and spread a story around the Nature City as a desirable and beneficial environment for all Brussels residents. A campaign with a clear message: we must learn to share the city with Brussels' other inhabitants, namely its fauna and flora.
This message is perfectly illustrated in the 3 campaign visuals: a bird rollerblading, a plant waiting for the bus, a frog and a flower cycling... 3 visuals in which humans, fauna and flora enjoy Brussels together. For the visuals, Air and Bruxelles Environnement have decided to humanize the fauna and flora, giving them the same size as people. A way of making people understand that fauna and flora are just as important as humans, and therefore deserve as much space.
These visuals combine a touch of reality by photographer Edouard Valette, and a touch of imagination by 3 illustrators based in Brussels: Petrouchkaka studio, Jeanne Kiviger & Ophélie Lhuire. They will be present in OOH, DOOH, banners, landing pages, posts on social networks, and on trams.
This campaign "Brussels, so naturally beautiful" invites us to share Brussels with all those who make it beautiful, whether they have paws, petals, branches or wings.
Crédits
Client : Bruxelles Environnement
Client contact: Romuald Arbe, Mara Cavelier
Agency: AIR Creative Council
Strategic Planner: Michelle Defooz
Client Manager: Georgia Vandenberghen
Account Executive: Eva Closset
Creatives: Edouard Coune, Arnaud Bailly, Anouk Lemm, Marie Paris
Copywriter: Marie Paris & Pieter Decanniere
Head of Craf: Christophe Liekens
Graphic Design: Aurélie Prestigiacomo
Motion Design: Boris Delire 
Illustratrices: Petrouchkaka studio, Jeanne Kiviger, Ophélie Lhuire
Productrice: Bérengère Lurquin
Photographe: Edouard Valette
Assistant photographie: Studio Tsawa (Samir Dari)
Media: Mediabrands
Media contact: Aline Da Silva Santos, Charlotte Goethals, Caroline Vanderbecq, Malorie Mekoun
SoMe
DOOH