Air at the Louvre for Qualcomm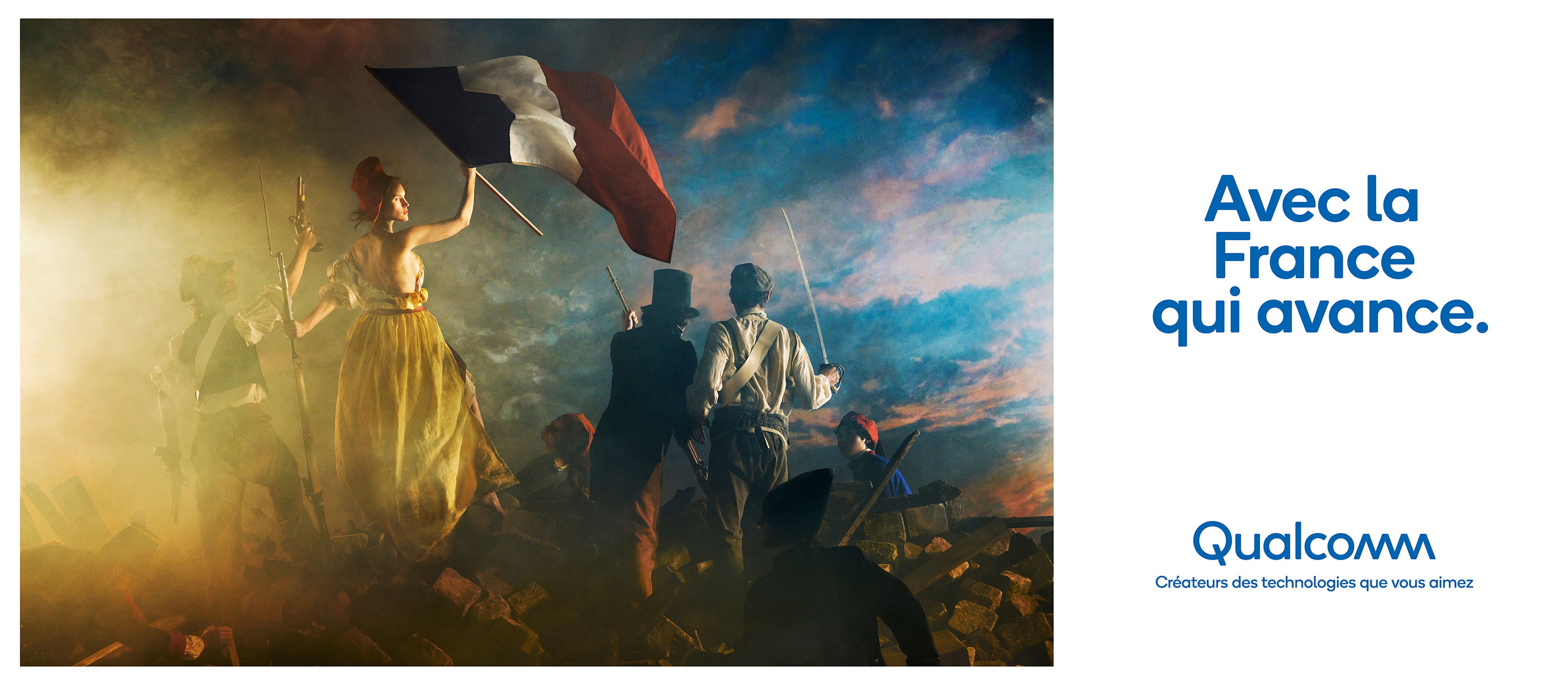 For some years now, Air Brussels (McCann's exclusive partner in Belgium) has been working with Qualcomm, a world leader in wireless technology innovation.
But this time, the agency was asked to work on a very special campaign.
Qualcomm Technologies, Inc and its media agency in France, Neo Media World (WPP Group) issued a dream brief: to let the whole of France know that Qualcomm is working towards a better technological future. The brand asked Air to design and produce not only the largest poster in France – 1135 m² - but in front of the Louvre Museum no less! 
The poster was backed up by an original media campaign: a 6-page spread in Le Monde on 16 December and a great amount of activity in SOME.
Karel De Mulder, Creative/Creative Director at Air, was visibly enthusiastic, "As a creative, it's not every day you get asked to design a 1135 m² billboard for a major brand at the pyramid of the Louvre! It's also the first time that this gigantic billboard has not been used by a luxury brand.
We wanted to resolve the paradox of Qualcomm: the brand is leading a true technological (r)evolution. And yet, even though it is behind most of the technologies that make consumers' lives easier every day, Qualcomm is unknown to them".
The agency focused on the meaning of Qualcomm, its core purpose: creating solutions for the future that improve the world and the lives of its peers.
As Pauline Héraly, Account Director at Air, sums it up, "Technology that serves people, not technology that enslaves them".
"Among the museum's historical/artistic heritage, it was Eugène Delacroix's 1830 revolutionary masterpiece, Liberty Leading the People, that inspired us to come up with a response," continues Karel De Mulder. "We decided to come up with a modern version of it, but from a new angle. Imagining the back of the painting allows us to symbolise both the digital revolution that Qualcomm is bringing about, its position as a leader pushing the world forward, and to give it a visibility that the very nature of the technologies it develops does not produce."
Amandine Marion, Air's project manager, adds, "We had to find the artist who was best able to render a contemporary vision of Delacroix's masterpiece. We opted for Elina Kechicheva and Qualcomm had the courage to follow this recommendation, even though it's so unrelated to marketing".
Born in Bulgaria, Elina Kechicheva settled in France 20 years ago.
She has worked for magazines such as Vogue, Numéro Tokyo, VMan, W, and Marie-Claire, but also more recently for Dior, with images that earned her the 2021 Best Fashion Image award. She is also known for her portraits. Among others, she has taken portraits of Amy Winehouse, Michael Cimino, Marisa Berenson, and Diane Kruger.
But, above all, it is her work on light and her sense of direction that caught the attention of Air's creative team.
Elina Kechicheva explains, "I have actually worked as a filmmaker, with a set, staging. I directed the actors while giving them freedom of movement. I like working in a group. I take advantage of the energy that emerges. I let the actors do their own thing until they find harmony among themselves, a kind of choreography. I wanted them to be both heroic and natural, like in a reportage. They have to have a soul. Everything is done with light to get this result".
The Billboard is on display until the end of the year. If you are planning on spending New Year's Eve in Paris, it's well worth a visit. And if you want to see the painting from the front, it's just across the street… ;)
Credits
Client: Qualcomm
Agency : AIR Partner of Mccann
Creative Directors: Air Creative Council
Creation : Karel De Mulder, Tom Galle, John Benois, Arnaud Bailly, Romain Félix, Eric Hollander
Project Managers: Pauline Heraly, Amandine Marion, Louis Gheysens
Production Agency: La Multinationale
Producer: Judith Haïk
Photographer : Elina Kechicheva
Design : Laurent Lejeune, Boris Delire
Print Production : Denis Haillez