Air and Amnesty let you look at a bench through the eyes of a woman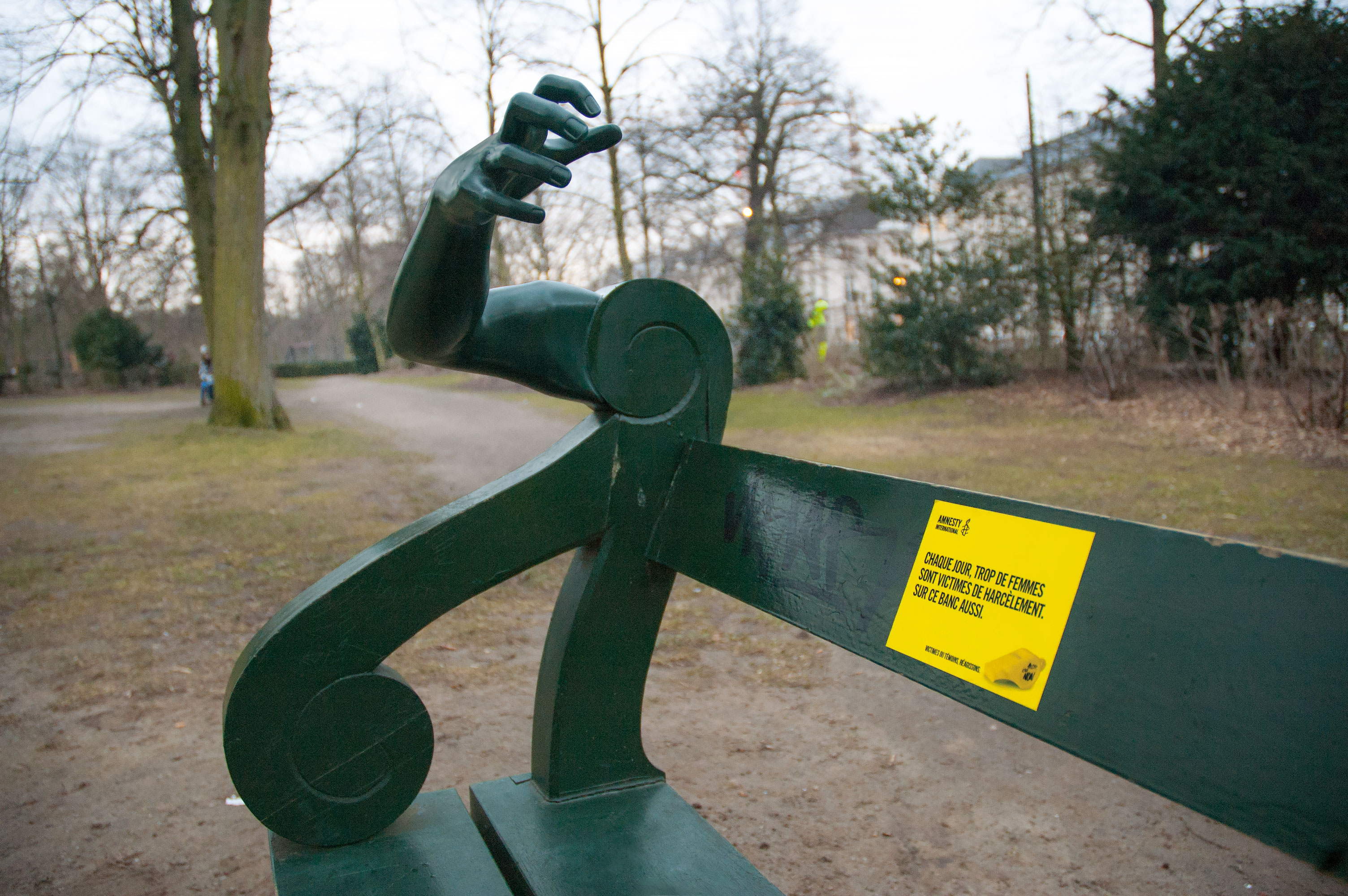 On International Women's Day, Air and Amnesty launched a campaign to stop unwanted sexual behaviour. Offensive comments on the street, groping on the tram, obscene gestures in the park … these are just a few examples of things 1 out of 5 women experiences in public space every day. With this enormous number comes an even bigger one: the number of witnesses who do nothing. On International Women's Day, Amnesty International comes with a clear call: victims and witnesses, let yourselves be heard.
To start the conversation, Air has created a stunt. Common places in the public space were transformed into how women experience them. For example, the armrests of a bench and a bus seat were transformed into obscene and groping hands. Unfortunately, these unwanted intimacies are part of a bus ride or resting on a bench for many women.
"Various studies have shown that the vast majority of women have already been harassed in the public space", confirms Valérie Michaux, campaign and communication coordinator at Amnesty International. "This is a direct attack on their freedom. Everyone must be able to move in complete safety. That is why it is time to react and use all available measures to ensure that women can go in our public spaces without risk. "
The bench can be seen at the Parc Royal in Brussels and the bus seat was installed on the W line from Bruxelles-Midi to Braine l'Alleud. Air made a film about the stunt to launch a clear call via the social channels of Amnesty: let's create a public space together where everyone feels safe.

Credits
Agency : Air­
Brand : Amnesty International
Client : Valérie Michaux, Philippe Hensmans, Zoé Spriet
Executive Creative Director : Eric Hollander
Creative Director : Bart Gielen
Creatives : Han Verschaeren, Ruben Van Maldeghem
Strategic Planner : Mélanie Dalla-Riva
Connection Planner : Maxime Van Santen
Account team : Pauline Heraly, Chloé Pierloot
3D Production : Achillesdesign & Zigg Zagg
Designer : Clara Climent
Photo retouching : François-Olivier De Deyn
Editing: Jelle Stroo
Camera: Ivo Maes