Air: 30 years, and young people in charge.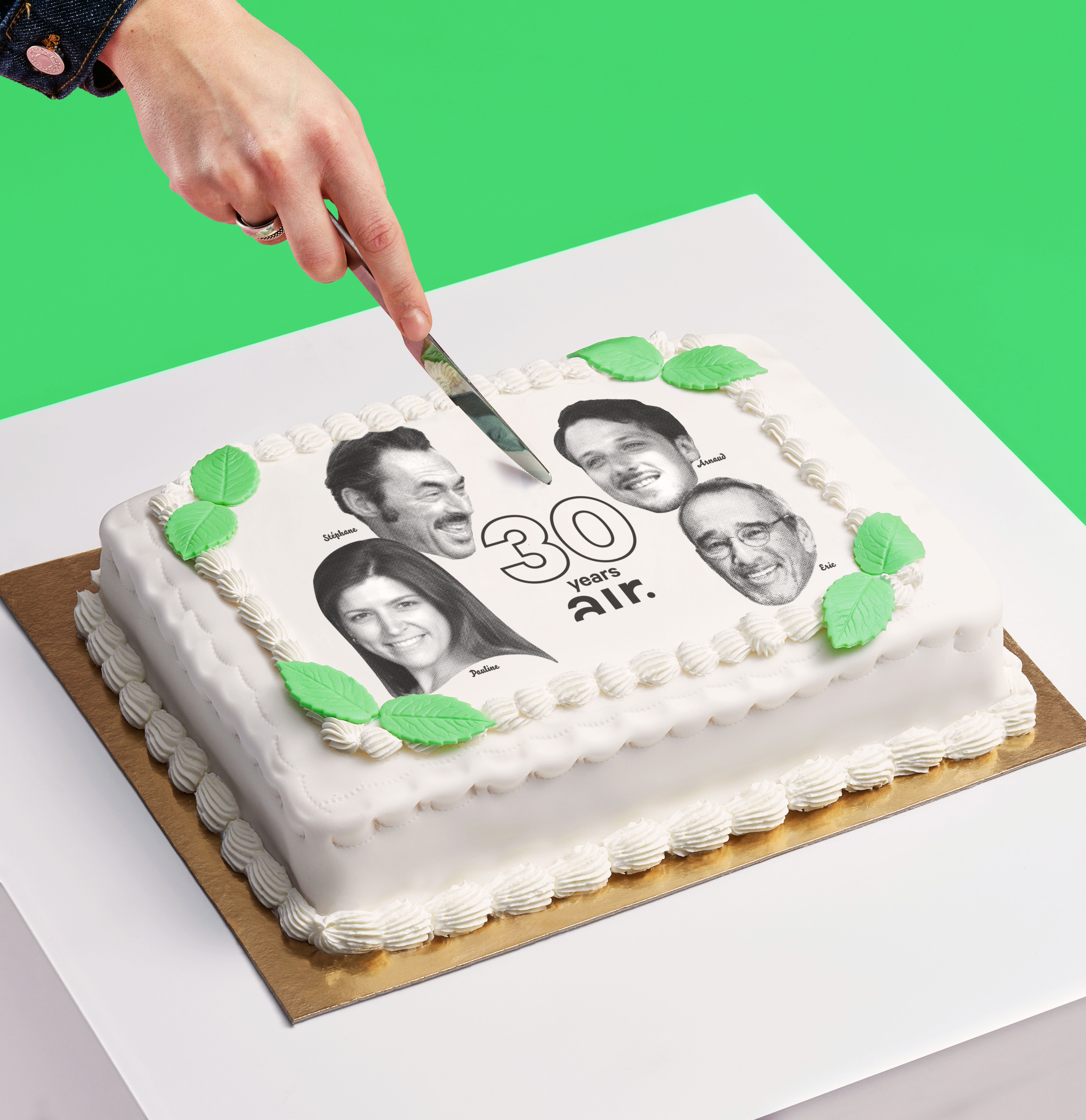 In 2023, Air will be 30 years old.
30 years that will have seen most of the big Belgian brands, some big international brands and hundreds of talents.
30 years of a unique entrepreneurial adventure in the world of Belgian advertising, led until today by its founder and Creative Chairman Eric Hollander, and his CEO and partner for 15 years Stéphane Buisseret.
To the short list of historical shareholders and bosses of the most long lasting independent agency in the business, we can now add two new names: Pauline Héraly, Business Manager who joined Air 8 years ago, succeeds Stéphane as CEO, and Arnaud Bailly, multi-prime creative in charge of creation at Air for 3 years, becomes Director of Creation. Both of them also become shareholders, following an MBO encouraged and supported by Eric and Stéphane.
"Today, we're really in charge," explains Pauline Héraly, the CEO, whose enthusiasm is infectious. "We love this agency that cultivates its difference, its strong values and its history. We want to be part of it and, above all, to go further. We want to bring on board all those who want to accelerate the transformation of the world: brands, institutions, media, talents... We will need everyone!" concludes the new CEO.
Arnaud Bailly reinforces: "We totally subscribe to the creative, craft and sense of purpose that make Air. The communication of brands must be responsible, but not boring, moralizing or guilt-inducing. There is no positive impact without an impact at all", says the one who was named "Best Young European Creative" the same year he entered the profession in 2009.
Two years ago, the agency had already begun its sustainable transition, and last September obtained the precious B Corp certification, awarded to companies meeting the highest standards in terms of social and environmental performance.
"Becoming a B Corp has triggered a real change in perspective, and it now influences all our day-to-day decisions," explains Pauline Héraly.
This change of perspective allows the agency to assert a new strong line: Creativity Crafted for Progress. Arnaud explains: "Creativitity, because whatever we do and whatever we say, we need a strong idea that accelerates change. It is ideas that make things change and evolve behaviors. Crafted, because each strong idea must be anchored in a unique visual universe. Air will continue to stand out, with its heritage and references such as Dior, Delvaux, or more recently BABYZEN and Jules. And finally, for Progress, because no matter what we have to say, we are here to move lines, challenge the status quo and have a positive impact on society. These 3 pillars constitute a unique proposition that explains the success of Air's latest campaigns such as Men In Progress for Jules, Life says GO for Yoyo of BABYZEN, the stroller brand for which the agency just won the worldwide budget- or JoinTheFam for Equal Brussels."
"Together, with Arnaud and all the talents of a tightened agency, more agile and more determined than ever, we want to accompany brands in this transition towards a more inclusive economy. With an ever-stronger creation and craft, and the will to have a positive impact on brands, their business, people and the planet," concludes the new CEO.
"Stéphane and I are not retiring, we are much too young for that," smiles Eric Hollander. "On the contrary: we will put all our experience at the service of this vision, which is as inspiring for us as it is for our customers. Air will be 30 years old this year, and it's probably far from over."
"For us, the priority is to surround ourselves with the right people to guarantee the sustainability of our holdings. It seemed obvious to us to join forces with Pauline and Arnaud, both in terms of capital and by entrusting them with the operational management of the agency, which is celebrating its 30th anniversary. We share the same desires and values. They have the skills, the desire and the energy. They were decisive in the B Corp certification process, and they are the most capable of guaranteeing a future for Air, which they refuse to separate from the future of the planet," summarizes Stéphane Buisseret.
The two accomplices thus continue the development of their holding R FIN PARTNERS, already a reference shareholder of AIR, AIRCA and AddRetail.